Professor Saneem Fatima and Jan-Aage Torp
Urdu Action
(Standard Post) Hyderabad, January 19: 'Faith, family and freedom are the basic building blocks of societies.
Societies that value family, faith and freedom survive, those that do not eventually disintegrate over time', Norwegian Pastor Jan-Aage Torp, a devotional speaker, who is on a visit to India said today while delivering lecture «Culture and Peace in India» at Maulana Azad National Urdu University (MANUU) organized by UGC - Human Resource Development Centre (UGC HRDC).
Jan-Aage Torp also interacted with the Vice Chancellor, Professor Dr. Syed Ainul Hasan and the Registrar Professor Ishtiaque Ahmed and other faculty members.
He spoke about the vast cultural diversity of India and appreciated the freedom available to Indians. Speaking to a packed conference hall, Pastor Torp said that 'I have taken part in anti-abortion campaigns in Norway which is completely non-violent. Gandhi's philosophy will never go out of fashion, he remarked. Speaking on religious conversion he pointed out that conversion through material benefits and corrcion cannot be the basis of religious conversions.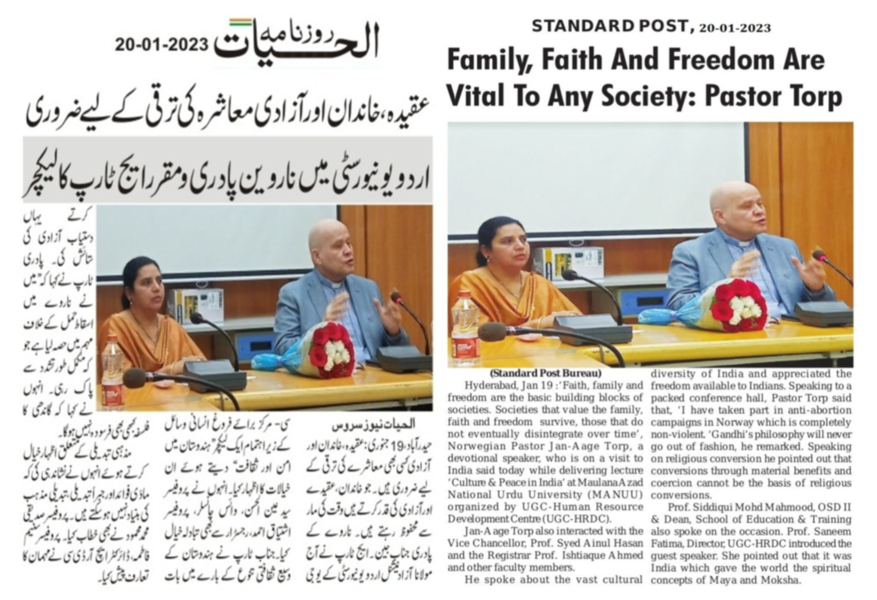 Hindu News - Standard Post
Prof. Siddiqui Mohd Mahmood, OSD II and Dean, School of Education and Training, also spoke on the occasion. Prof. Saneem Fatima, Director, UGC HRDC introduced the guest speaker. She pointed out that it was India which gave the world the spiritual concepts of Maya and Moksha.