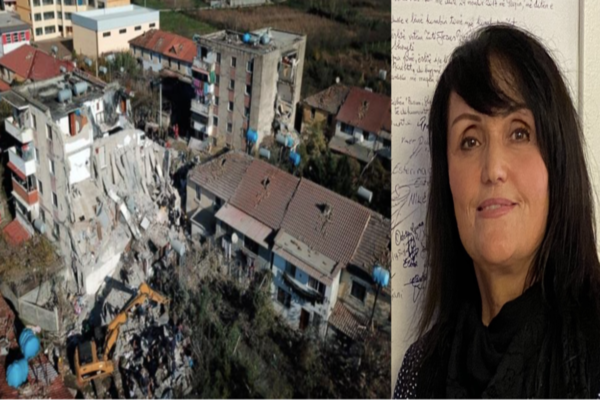 Dana Molla and ruins in Durrës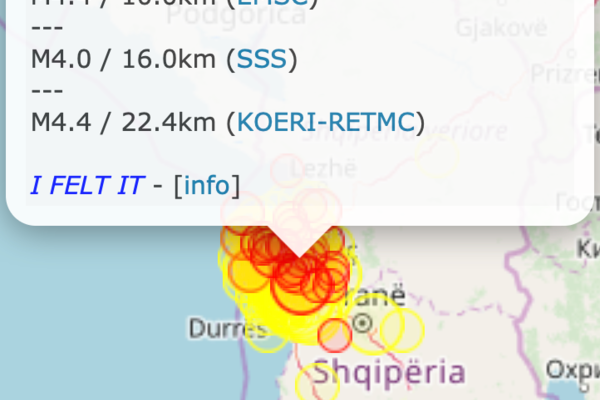 The epicenter of the earthquake is the Tiranë/Durrës/Laç area
(Tiranë/Durrës/Laç in Albania) 51 are dead, 2.000 injured, and 5.000 homeless in Albania, a nation of just 3 million people.
- This challenge cannot only be dealt with shortterm, but requires longterm measures which we are preparing for now, says veteran Albanian evangelical minister to children and families, Dana Molla.
She is ready to receive financial aid from abroad for the significant challanges that lie before Albania.
The Government
The search and rescue operation for earthquake survivors in Albania has ended, with the death toll at 51 and no more bodies believed to be in the ruins.
Prime Minister Edi Rama said preliminary figures show more than 1.465 buildings in the capital of Tiranë, and around 900 in nearby Durrës were seriously damaged in Tuesday's 6.4-magnitude pre-dawn quake.
Around 2.000 people were injured.
Preliminary figures estimate at least 5.000 people are homeless, with around 2.500 given shelter in hotels. Others have been taken to neighbouring Kosovo or have moved to eastern areas of Albania.
Mr Rama has pledged all homeless will be in «stronger homes» in 2020.
(See banking information below)
Christian Response
Dana Molla, a native Albanian and a veteran evangelical minister of the gospel since communism fell in 1991, has pioneered homes for orphan children in «family units» for the past 20 years though the Bethesda House of Grace in Laç and Tiranë.
- We are prepared to provide homes for families and for orphaned children in «family units», underscores Dana Molla. - As Christians we have a duty, says Dana who is often referred to as a «Mother Theresa of modern Albania».
- We cannot just give shortterm aid, because there are 5.000 homeless after the earthquake in the Tiranë/Durrës/Laç area. Sadly, the government has hardly any plans in place, she says. - This is the time for evangelicals who believe in action, love and justice!
- We need to provide houses, apartments, schooling, food and necessities for months, and probably longer, says Dana Molla emphatically.
(See banking information below)
EAL President
The President of European Apostolic Leaders (EAL), Jan-Aage Torp, who arrived in Albania the day after Wednesday´s massive earthquake of 6.4 magnitude, says that the Albanian government has made a decision that all the crisis aid from abroad will be taken in the customs by the government officials to be managed and distributed by them.
- This disturbs me, says Torp, because the government is largely viewed as corrupt - even in perilous times.
- However, the government cannot stop credible Albanian ministries from getting funds, he says, and calls upon Europeans and other continents to send financial aid immediately to Dana Molla and her Bethesda House of Grace in Laç and Tiranë.
(See banking information below)
Proven Ministry
Dana Molla tells her story:
- In 1991 I was suddenly born again, and I was thrust into the role of a pioneer leader of the Word of Life Church in my home town of Laç, just north of Tiranë, when Pastor Ulf Ekman from Uppsala, Sweden was used by God to shake the nation in a nationwide tv crusade. I just wanted to serve, Dana Molla recalls.
- The Lord showed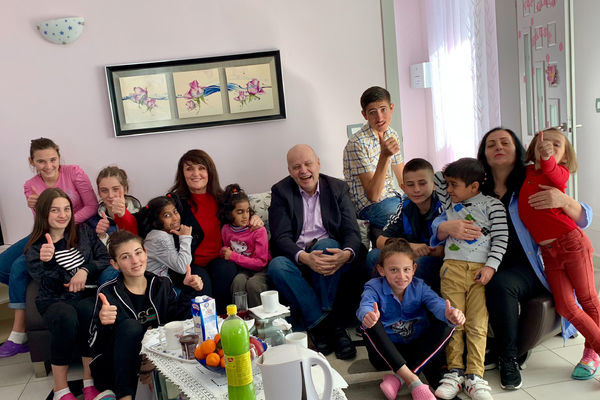 Happy children at the Bethesda House of Grace in Laç
me that my biggest calling would be to raise the new generation of children, who were often homeless, orphaned, and neglected in the severe poverty after 47 years of atheistic communism. The poverty was both real-life and systemic.
- I then spent a year at Bible School in Sweden, and in the year 2000, we officially launched Bethesda House of Grace in Laç, and we expanded to Tiranë.
Dana Molla has rescued hundreds of children, and trained hundreds of families.
in Laç, she has a Childrens Center where at least 150 children and their parents receive care and training that the public schools cannot give.
At the «family unit orphanages» in Laç and Tiranë she has separate units of girls and boys with a mother-caregiver. The kids grow up in a family environment with Jesus as their Hero and human dignity as their core value.
Banking Information
Name : BETESDA - SHTEPIA E MESHIRES
Bank Name: Intesa San Paolo
Account Number: 1045831802
IBAN: AL39208110080000001045831802
Swift Bank Code: USALALTR
Please send an email to Bethesda here with your name, address, email, and phone information.