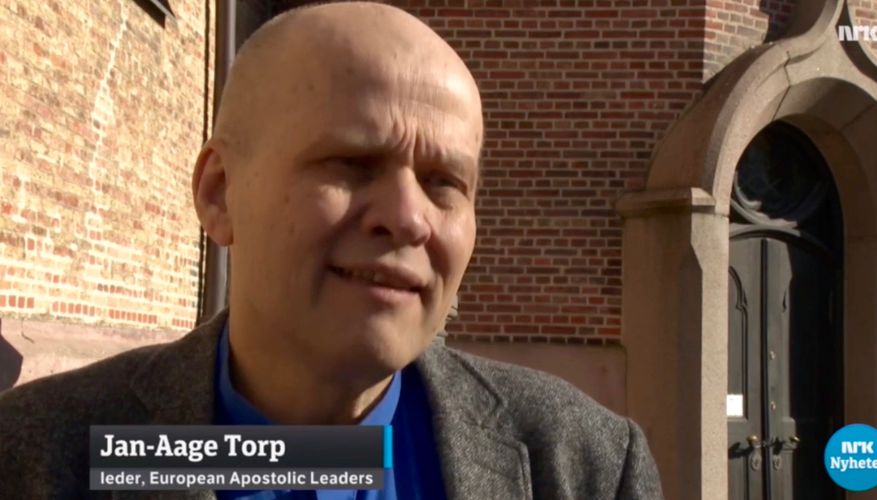 Jan-Aage Torp speaking strongly for the Lordship of Christ on Norwegian Broadcasting Company (NRK) on Thursday evening.
As many in European Apostolic Leaders are well aware of, Aina & I are in the thick of a battle in Norway about the future and soul of our nation. We are being attacked from every angle possible, and it hurts. But we keep focused on what this battle is all about.
«Therefore God has highly exalted him and bestowed on him the name that is above every name, so that at the name of Jesus every knee should bow, in heaven and on earth and under the earth, and every tongue confess that Jesus Christ is Lord, to the glory of God the Father» (Philippians 2:9-11).
This declaration by Apostle Paul is the crux of the matter. Paul wrote this from prison, and he did not compromise and try to hide himself when the going was rough.
I believe that Chuck Pierce spoke an apostolic word in Oslo on January 20th:
- Norway is a shield nation for the Lord to impart faith and protection for many nations of the world. Right now the enemy is contending over the shield called Norway, So it is very important that there is a movement of God in Norway where the Spirit of God is stirred up and faith starts moving in some incredible way, because the shield of faith quenches all the fiery darts of the enemy. If that is going on in Norway, then all of a sudden that shield begins to form. So this becomes a critical time for Norway, he warned.

- If that new movement does not catch fire, if new faith does not arise. then instead of being a shield for the nations perhaps in all of Europe, you can become the opposite of a shield nation, which is an opening for the enemy to come through. So this doesn ´t just become a key time and place for Norway, but for Europe. But don´t worry, for the Lord has two simple words: "By faith!" It will happen by faith, said Pierce.
What is happening in Norway now is what you will experience in the nations of Europe in days to come, so that is why we are heeding Christ´s call to win the battle. It is not selfishly about «us», but about «us all».
The crux of the matter is not our practises of prayer and fasting, healing and deliverance, «indoctrination» of children in the home & church - but it is all about the Lordship of Christ.
We believe that all of Europe will declare that Jesus Christ is Lord!