I was called into the apostolic ministry at the age of 18, but a big spiritual war 23 years later put me in the center of it!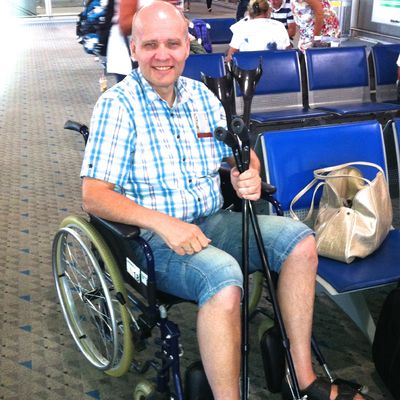 Arriving in Athens in 2013A terrible crisis in Scandinavia was evolving in 1998, and I was involved in very uncomfortable developments of severe spiritual abuse and heresy. By the grace of God, together with Swedish and international leaders, the Lord used me to bring closure to these problems.
In August 1998, I suddenly came across a quote in the writings of the heretics that abused Dr. Peter Wagner´s name in a grave manner. In my desperation I called Peter´s home phone, and his wife Doris answered. I said: "Doris, they are saying that Peter supports the notion of having a ´spiritual wife´ in addition to a ´natural wife´". Doris laughed in her characteristic way: "Well, if Peter has one, I certainly don´t know of it! But I´ll let you talk to Peter on the other line". Peter was as always forthcoming and said that I should strongly refute this abuse, which I then did. But when I asked Peter how I should deal with the problems, which were especially centered among the largest Pastors Fellowship in my city, Oslo, he said: "Well, this shows that Oslo does not have apostles!". Stunned, I asked him: "How can Oslo get apostles?" Peter answered immediately: "For a starter, you should come to my Apostolic Conference in Colorado Springs in March 1999. You will learn." I responded: "Aye, aye, Sire!" And off I went, seven months later.
In May 1998, I had been in Colorado Springs for a special meeting with the AD2000 committee. There I asked Dr. Luis Bush what is "the next wave" within the global evangelical movement. He answered without any hesitation: "The Apostles!" He mentioned names like Peter Wagner, Omar Cabrera Sr., Ed Silvoso and Lawrence Khong, So I was aware, but little did I know then that I would soon be involved personally.
I had been involved in some foreplays of the apostolic in the 1990´s. First, through a Swedish leader who really ran over people in his zeal, and then through a UK group that at the time were control freaks. In 1995, I had met the founder of Antioch Churches & Ministries (ACM) until it crumbled in 1998, but I did not want to get involved because of the culture of fear and intimidation that I detected. I preached in some of their churches in 1996-97, but I refused to join. However, after that movement fell apart, and the founder publicly repented, even to me in 1999, I decided to accept his invitation to relate to him.
Suddenly among the apostles
So I became "an apostle" in the midst of controversy. As a man of peace in my natural ways, I confidentially told Peter Wagner that the Pastors Fellowship in Oslo had kicked me out in 1998 because I dealt with the heresy, and the leaders did not like that. Peter´s response was clear: "That is a mark of honor, Jan-Aage. That´s why you qualify. You stood up for the Kingdom, against false doctrine! I would be proud to be kicked out of such a group!"
I have always felt awkward in the "armor" of modern day apostles. I am not like the CEO of a corporation. Probably, I am more like a general on the battle field. Or even more: A foot-washing servant.
When I started on the journey to build European Apostolic Leaders in the summer of 2013, I suddenly became what I am.
My first six assignments were to Bienvenue Kukimunu (Brussels), George Markakis (Greece), Jean-Marc Potenti (France), Kolbeinn Sigurðsson (Iceland), Michel von Allmen (Switzerland), and Damir Šićko Alić (Croatia). I moved around on my two crutches. Not very impressive, but my "weapons" were what mattered: Vision, servanthood and love.
Now I normally don´t use the crutches. But my weapons are the same.