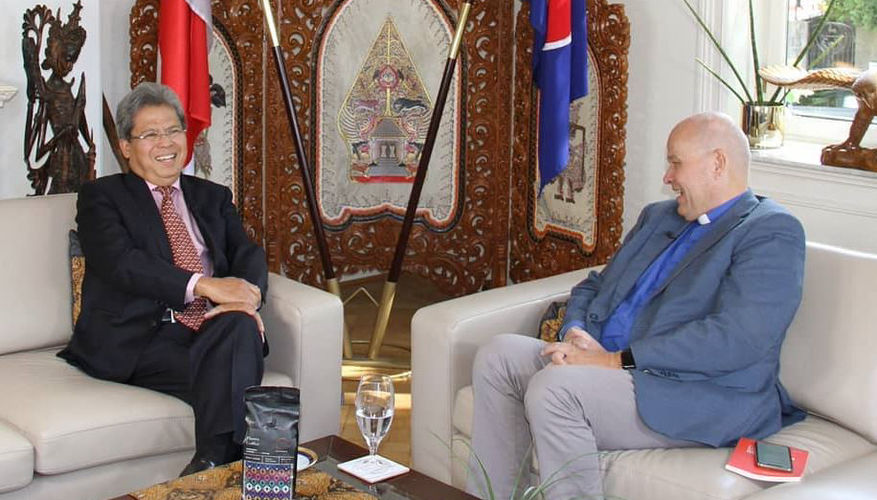 The Indonesian Embassy in Oslo, Norway has published this report:
Ambassador Todung Mulya Lubis had an interview with TV Visjon Norge's "Hovedstaden Med Pastor Torp" host, Jan-Aage Torp.
Torp is the Executive Chairman of Kristen Koalisjon Norge (KKN), President of European Apostolic Leaders (EAL) and pastor of the Oslo Church.
In the interview, Ambassador Lubis underlined several priority issues on bilateral cooperation between the two countries, namely political, economy, tourism, education and socio-cultural issues.
Ambassador Lubis also pointed that his career began from being a lawyer and human rights activist. To this day, he is still regarded as one of Indonesia's leading human rights lawyers and most influential legal thinkers.
In 2018, President Joko Widodo appointed him as the Ambassador of the Republic of Indonesia to the Kingdom of Norway and Republic of Iceland. With his expertise in the area of human rights law, he has a big hope that cooperation between two countries would be further encouraged.
Closing the interview, Torp was presented a bag of Sumatra Mandheling (Mandailing) coffee, a rare Indonesian coffee that is delightfully smooth with a rich heavy body, low acidity and an exotic flavor, grown in the northern section of the island of Sumatra in Indonesia, which is also the birthplace of Ambassador Lubis