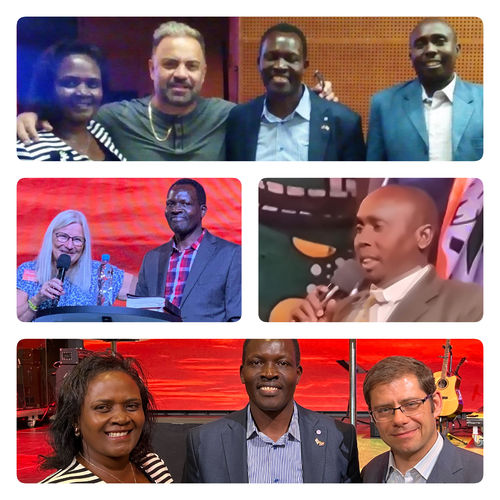 Photo Montage: EAL
When God has His way in our lives, we often encounter surprises.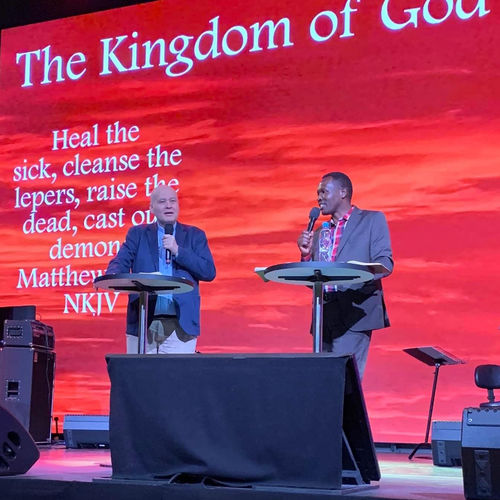 I was blessed to translate for Bishop Rutto (Photo Credits: EAL)
Actually, some of the greatest missiological breakthroughs in the history of the Christian Church, since the days of the Apostle Paul, have come through surprises.
At the EAL Gathering in Kristiansand last month, the Lord had spoken to me about the main focuses of the Gathering, which were on Southern Norway, Europe, the Middle East and North Africa.
Kenya?
However, I hadn´t heard from God about Kenya.
The reason for the participation of three Kenyans - Bishop Paul Rutto & his wife Mercy, as well as Pastor Moses Katome - was that Levende Vann, which organized the conference, wanted them to experience this event, and that we would give some space to them in the program. For 10+ years Levende Vann and these Kenyans have partnered significantly to bring the Gospel and redemption to the unreached people group of Pukot. With great success!
The Rutto´s, who presently reside in Eldoret, are from the Kalenjin people of the Rift Valley Province, which is the same people as Kenya´s new President, William Ruto, who is a relative of Bishop Rutto.
Pastor Katome is of the Pukot people.
Kenyans in 2007
The Lord had layed Kenya strongly on my heart since God in 2007 led many Kenyans in Oslo to join our church.
That is also when the former Ambassador of Kenya in Norway and Sweden, Arthur Andambi, often spoke in our church, with the zeal and anointing of a prophet!
I visited Kenya several times afterwards, and have fond memories from my ministry for Bishop Odero Elisha in Kiisii, West Kenya.
2019 with President Kenyatta
2019 is the last time I revisited Kenya, as a delegate at the International Conference on Population and Development (ICPD) of the United Nations Population Fund (UNFPA). I spent almost a week in Nairobi.
My most impacting experience was my inspiring personal meeting with President Uhuru Kenyatta.
But in 2022?
But little did I expect that Kenya would come on the radar of EAL in 2022 - in Kristiansand, Norway!
This can only be God!
God has spoken to us about the global impact of EAL. Great leaders from the largest nations of the world are joining us.
It seems that another nation is coming onboard. We can only give the matters to the Holy Spirit.
I say: Welcome, Kenya!