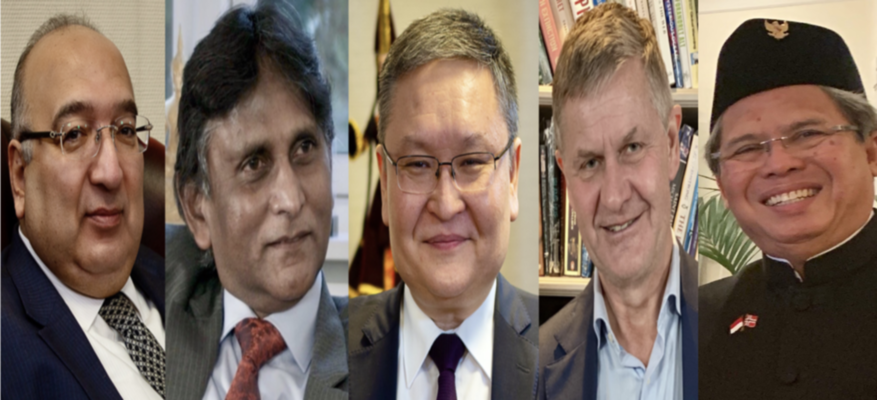 From left to right: Ramadan, Bhaskar, Akhinzhanov, Solheim, Lubis
Ambassadors Amr Ramadan (Egypt), Dr. B. Bala Bhaskar (India), Dr. Todung Mulya Lubis (Indonesia), Yerkin Akhinzhanov (Kazakhstan), and Erik Solheim (Norway).have accepted EAL´s invitation to speak on «Religious Freedom» at the Europe Meeting of European Apostolic Leaders (EAL) in Oslo, Norway on April 28th-May 1st.
- I am thrilled to announce that they have accepted our invitation to speak on the power and relevance of faith and religion, says EAL´s President Jan-Aage Torp. - This will be such a historic session!
The Excellencies, Ambassador of Egypt Amr Ramadan, Ambassador of India Dr. B. Bala Bhaskar, and Ambassador of Kazakhstan Yerkin Akhinzhanovs have all served in Norway since 2019, and Ambassador of Indonesia Dr. Todung Mulya Lubis since 2018, and have had distinguished positions in major nations and centers of influence globally.
His Excellency, Erik Solheim, the former Under-Secretary-General of the United Nations and Executive Director of the United Nations Environment Programme from 2016 to 2018, has previously served as the leader of the Socialist Party in Norway, and he also served as the Minister of Climate and of Foreign Aid.