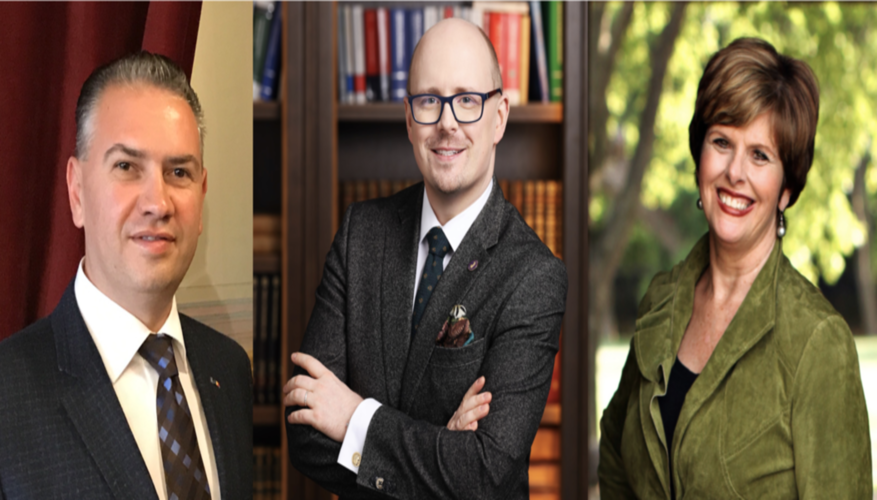 Ben-Oni Ardelean, Jerzy Kwasniewski and Cindy Jacobs
The Strategy Gathering of European Apostolic Leaders (EAL) in Oslo, Norway on April 28th-May 1st, 2022 features Dr. Cindy Jacobs of Dallas, Texas as the keynote speaker.
However, several other high level speakers will also contribute and participate.
Jerzy Kwasniewski, the President of Ordo Iuris Legal Institute in Warsaw, Poland will speak on the battle for the unborn child in Europe and beyond. According to the newspaper Politico Europe, Jerzy is for the third year in a row one of Europe´s 28 most influential leaders, along with President Macron of France, President Erdogan of Turkey, UK Prime Minister Boris Johnson, Manchester United football icon Marcus Rashford, the President of the European Commission, Ursula von der Leyen etc. Read here.
Dr. Ben-Oni Ardelean, the Vice-President of The National Liberal Party in Romania, member of the Romanian Parliament and Deputy Chair of the Foreign Commission. as well as member of NATO´s Parliamentary Assembly, will speak on the battle for family values in Europe and beyond. Ben-Oni exerts great influence in Europe and globally, not only among Romanians, but within many spheres of culture.
Ben-Oni and Jerzy are friends of Aina & Jan-Aage Torp.
We will have several panel deliberations during the daytime sessions featuring apostolic and prophetic leaders from Europe and globally.
One of the panels will be on Religious Tolerance in nations of the world, and will feature high level ambassadors.
More information will be posted on the EAL website.